TikTok vs YouTube: Which Is Best for Your goals.
TikTok vs YouTube 96% of business leaders agree that companies that want to be successful must continue to invest in social media. So the question here isn't really if you should have a strong social game but which platforms give you the most bang for your buck?
And that's where the whole TikTok vs. YouTube debate stems from—both platforms can help businesses connect with audiences, drive purchases, and build a sense of community through video.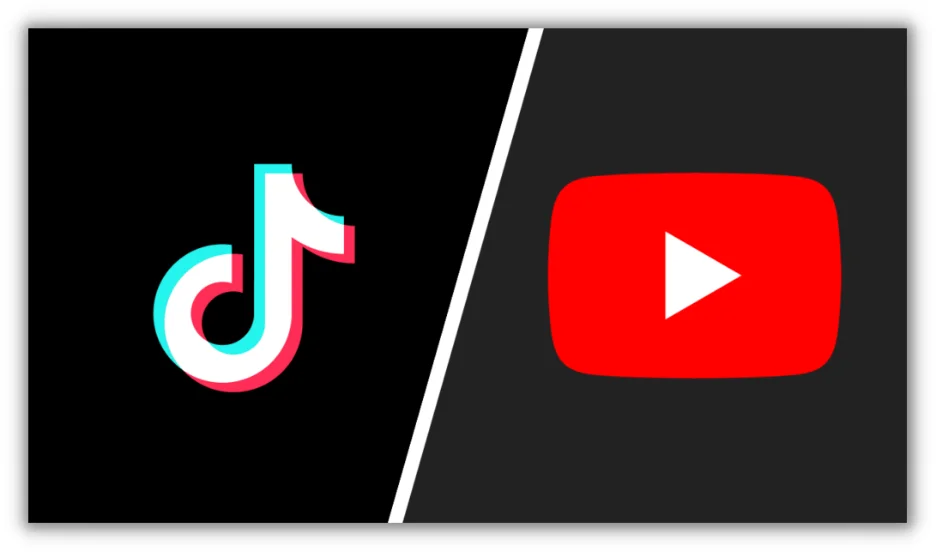 But what's unique about both platforms is they're also used as search engines by users. In fact, YouTube is the second-largest search engine. And for Gen Z, TikTok is Google.
Whether you create tailored content for these platforms to grow organically, partner with influencers, or run ads to drive sales, both YouTube and TikTok have a lot to offer.
Table of contents
TikTok vs. YouTube: Background
YouTube and TikTok are titans in the realm of video-sharing platforms.
Originating in 2005, YouTube, now under Google's umbrella since its 2006 acquisition, has firmly established itself as a platform for diverse content, from vlogs to tutorials, and allows users to upload, comment on, and share videos.
On the flip side, TikTok, a relatively newer sensation, has taken the world by storm with its short, engaging clips and virality potential. Just take a look at how Olipop, an alternative to regular soda, used influencer marketing to take over TikTok:
Both platforms offer unique advantages for businesses, but the choice between them hinges on your target audience and content strategy.
TikTok vs. YouTube: Key differences
The choice between YouTube or TikTok should hinge on your business objectives, the demographic you aim to capture, and the type of content you produce. It's crucial to remain adaptable, experiment with platforms, and always keep your audience's preferences at the forefront.
Here's a quick overview of what each platform offers:
Target audience
YouTube: Catering to a broad demographic, YouTube provides content ranging from quick clips to detailed documentaries.
TikTok: Predominantly appealing to Gen Z (although its demographic appeal is growing), it's a platform for trendy, viral content.
Content format and flexibility
YouTube: Offers diverse features like live streaming, premieres, and Shorts, and is a trusted source for varied content.
TikTok: Prioritizes quick, engaging content with tools for easy editing and storytelling.
User engagement and community building
YouTube: Fosters an interactive community with comment sections, live chats, and personalized recommendations.
TikTok: Prioritizes engagement through features like duets and the For You Page, ensuring maximum content reach.
Advertising options and monetization
Pros of YouTube
YouTube stands as a digital titan in the realm of video content, paving ways for content businesses to diversify, engage, and monetize their work. But in this grand platform arena, how does YouTube compare with the rising star, TikTok?
A wide range of content types
Both YouTube and TikTok offer an expansive array of content types, catering to different audience preferences.
The survey from Databox shows the 15 most popular video types include education videos, explainer videos, product demos, and product reviews.
On TikTok, dance videos and quick tutorials reign supreme, capturing the essence of fleeting moments and trends. Meanwhile, YouTube offers a broader spectrum, from casual vlogs to professional business workshops.
The breadth of content on YouTube is staggering—whether it's an intricate cooking tutorial, a comedic skit, or an in-depth tech review, the platform has it all. This diversity speaks to the versatility it provides to businesses, ensuring that there's something for every viewer.
Long-form content possibilities
YouTube has long been the sanctuary for brands looking to dive deep. Its platform effortlessly accommodates 30-minute intense workouts, 2-hour in-depth podcasts, and everything in between.
Cassey Ho, through her Blogilates channel, exemplifies this perfectly. For Cassey, her videos provide not just a 20- to 30-minute exercise session but also a chance to forge deeper connections.
But recognizing the emerging trend of bite-sized content, YouTube also introduced YouTube Shorts, a feature allowing users to craft 15-60 second videos like TikTok.
Established and popular platform
As veterans in the digital space, both YouTube and TikTok have cemented their places as popular platforms. YouTube boasts over 2.7 billion active monthly users, an impressive figure that underscores its dominance.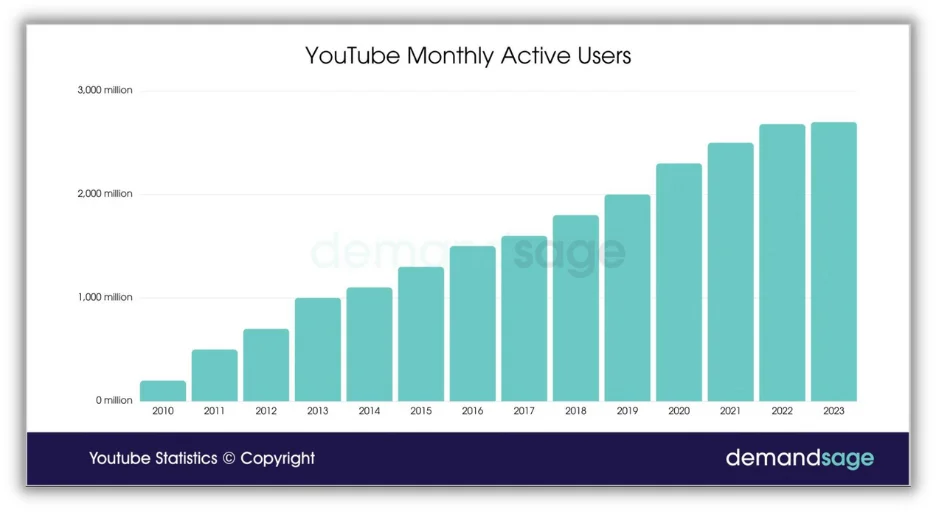 TikTok, though newer, has quickly amassed more than 1.1 billion monthly active users, driven by its captivating, user-generated content. Features like an easy user interface, a wide variety of content, and personalized recommendations have contributed to the monumental success of both platforms.
Target audience options
Understanding and catering to the right audience is crucial for content success. YouTube, with its vast expanse, appeals to a broad audience, from curious kids and trend-following teens to information-seeking adults and seniors.
The introduction of YouTube Shorts further solidifies its appeal to the younger crowd. In contrast, TikTok predominantly resonates with the younger generation, offering businesses a concentrated demographic to target.
In fact, according to Statista, the 18-24 (15%) and 25-34 (20.7%) age ranges account for most of YouTube's demographic.
High user engagement rates
Engagement is the currency of the digital realm.
Both TikTok and YouTube have cultivated ecosystems where user engagement rates soar. Engaging content not only retains viewers but positively influences algorithm rankings and content recommendations. (Check out these Simple YouTube SEO Tips to Rank Your Videos Higher in Search)
While TikTok thrives on virality, ensuring users are constantly engaged with trending videos, YouTube's algorithm focuses on user behavior, pushing content that aligns with individual preferences.
Ability to monetize content
YouTube offers a well-defined path to monetization, with options ranging from ad revenue to affiliate marketing and brand promotions. And a study from Google showed that YouTube beat TV in ad ROI in 77% of studies.
TikTok, while not offering direct monetization options akin to YouTube's AdSense, still presents opportunities. Popular brands on TikTok can drive sales through ads, brand partnerships, and influencer marketing endeavors.
Pros of TikTok
TikTok predominantly captivates the younger demographic with its snappy content and virality-driven features. From offering a buffet of bite-sized videos to being the epicenter of trending challenges, TikTok has reshaped how content is created and consumed.
Here's a dive into what makes TikTok a standout platform.
Bite-sized content possibilities
TikTok and YouTube both offer avenues for bite-sized content, with TikTok specifically sculpted around short-form videos. This bite-sized format is what helped PRISM+, a Singaporean electronics brand, leverage TikTok to engage Gen Z tech enthusiasts. Their TikTok strategy resulted in over 16.5K followers and a 58.6% sales boost during their 12.12 Sale in 2022.
Their TikTok Shop venture and interactive live streams also contributed to significant growth and a plan to expand to markets like Malaysia.
Ideal platform for viral trends
TikTok stands as a colossal hub for viral trends and challenges. Its algorithm, coupled with fierce user engagement, fosters an environment where content can achieve virality overnight.
From trending dances to quirky challenges, TikTok has become synonymous with internet trends that have transcended to other platforms like YouTube and Instagram.
TikTok's Creative Center explains new trends and publishes trends reports for businesses who want to better navigate the platform.
TikTok shopping options
TikTok Shop offers a personalized commerce platform where sellers can authentically engage with communities and creators to drive meaningful shopping experiences. Brands can seamlessly blend entertainment and commerce, gain trust via TikTok creators showcasing their products, and benefit from in-app touchpoints like LIVE shopping and shoppable videos.
The platform offers frictionless checkout, scalable support tools, and partnership opportunities, leading to tangible sales results as evidenced by case studies of multiple sellers experiencing significant growth. Importantly, according to TikTok, 70% of TikTok users discover new brands on the platform, and 3 in 4 users are inclined to make a purchase.
Highly engaged user base
Both TikTok and YouTube boast a deeply engaged user base, each with unique demographic leanings.
But while YouTube recently introduced "YouTube Shorts" to cater to short-form content preference, it cannot compete with TikTok. Compared to YouTube Shorts, which has an average engagement rate of about 3.80%, and Reels, with an average engagement of 4.36%, TikTok boasts a notably higher engagement level.
If you're seeing high engagement but not enough conversions, check out these proven TikTok marketing strategies to skyrocket conversions.
How to choose between TikTok vs. YouTube
YouTube, with its vast expanse of diverse audiences, offers brands unparalleled reach. Meanwhile, TikTok's virality potential can catapult a brand into overnight fame. Advertising on these platforms is not just an option; it's a strategic imperative.
The best option isn't TikTok vs. YouTube but rather TikTok and YouTube. You can create content on YouTube that can be repurposed for both TikTok and YouTube Shorts. And you can run ads on both platforms to reach the widest audience for your business.
It's a win-win!
For such content please visit my website Thyposts for latest updatesFor such content please visit my website Thyposts for latest updates.