SEO vs. SEM: What's the difference between these marketing tactics? You're about to find out!
SEO (search engine optimization) is about getting traffic and leads from organic results on search engine pages. SEM (search engine marketing) is a broader strategy for getting traffic from both organic results using SEO and paid results through pay-per-click (PPC) advertising.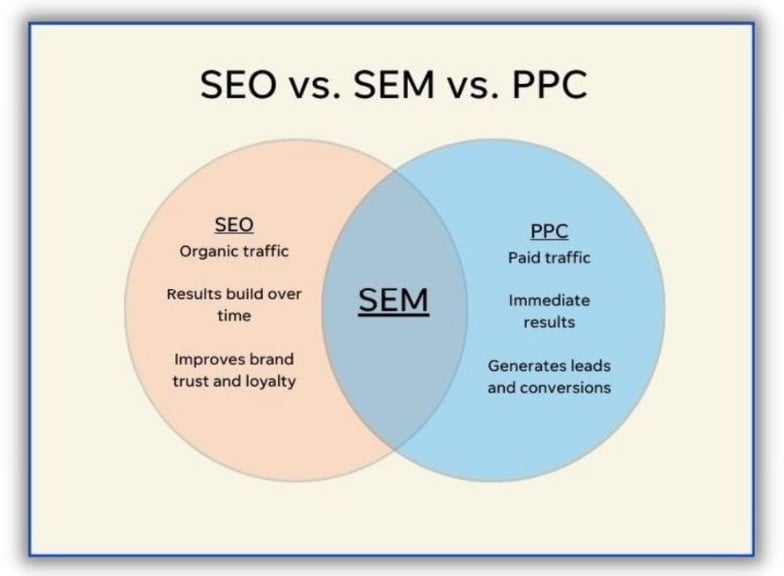 Both can be game changers for growing your business. Just think of all the people that could be customers if they only saw your listing at the top of their search results.
But SEM and SEO require different investments, deliver different results, and work on different time scales. And that's what we'll break down for you in this guide.
By the end, you'll be able to confidently choose which search marketing strategies are right for you—and have plenty of tips to do them all really well.
Table of contents
SEO vs. SEM vs. PPC: What's the difference?
To make things really clear, SEO is one part of SEM. PPC—pay-per-click ads—ads are the other. Comparing SEO vs. SEM is like comparing pickup trucks to vehicles. The first is a subset of the second.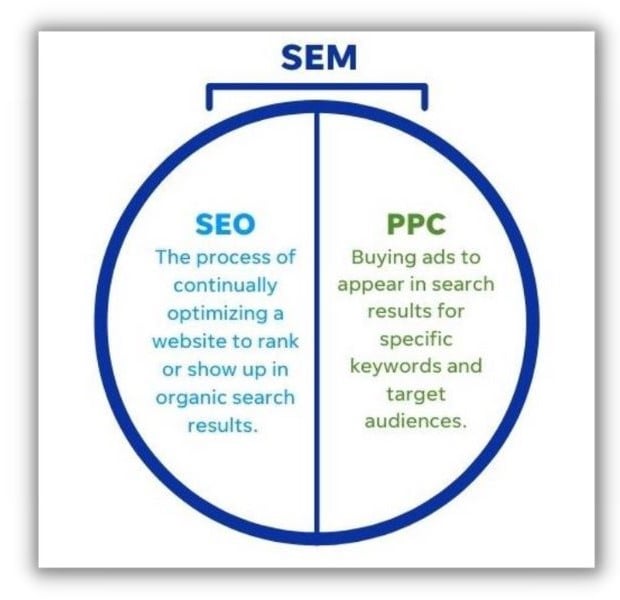 What we're really comparing is SEO vs. PPC.
With that cleared up, let's look at the definitions and tactics involved in each.
What is SEO?
Search engine optimization describes the actions you take to get your web pages to rank in organic search results. Meaning, the results that show up on search engines that aren't paid ads.
The goal of SEO is to make sure your business ends up at the top of search engine results when someone searches for the product or service you provide.
That's a powerful result since nearly a third of all local business searches lead to a purchase within 24 hours!
You can break down SEO into several tactics, all working together to get you more traffic and leads from search engines.
Keyword research
The first step in SEO is knowing which keywords people use to find businesses like yours. That's where keyword research comes in.
You can find keywords using free tools like:
➕ Choosing the right keywords is one way to help boost your website's SEO. This guide to getting on the first page of Google is chock full of other tips to get more clicks on search engines!
On-page SEO
On-page optimization includes using the relevant keywords you've found in various places throughout your website. That helps search engines know what your website is about so they can surface your site on the right results pages.
Here are a few places to include keywords on your website:
On-page SEO also means adding internal links that point from one page of your website to another. Those internal links help search engines (and people!) navigate your site.
Off-page SEO
Off-page optimization refers to all the things you do outside of your own website to tell search engines that your pages belong at the top of search results.
Link building (a.k.a. getting backlinks from trusted websites) and growing your presence on business directories like Google Business Profile and Yelp are important parts of off-page SEO.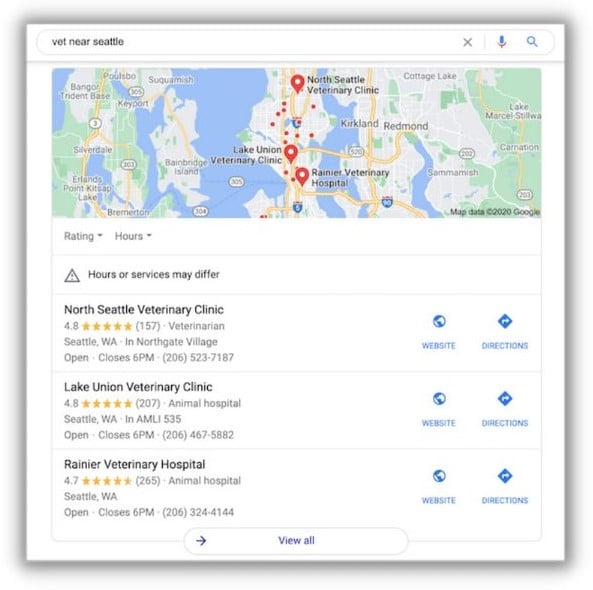 Optimizing your Google Business Profile will help you get a spot on the coveted Google 3-pack.
The more often your business is referenced on high-value websites, the more the likes of Google trust it enough to share it.
Technical SEO
Technical SEO involves optimizing your site for mobile devices, as well as improving site speed, crawlability, and indexing. Basically, it's everything you do to help search engines navigate and understand your site.
Most technical SEO starts with an SEO audit. That clues you in on what's working and what's not optimal about your website so you can make improvements.
🚨 Want to know how your website SEO is performing? Try our free website grader to get your score!
What is SEM?
Search engine marketing includes everything we've mentioned about SEO plus pay-per-click (PPC) advertising strategies that drive traffic and leads from paid ads on search engines.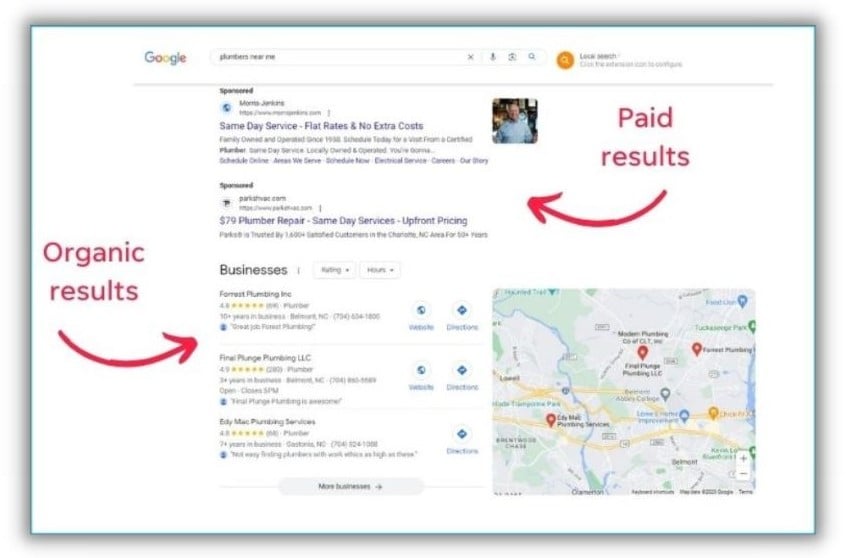 Since we've already covered the SEO part of SEM, let's review PPC.
What is PPC?
Pay per click is a version of digital advertising where you pay every time someone clicks on your ad. PPC ads often appear above the organic results, giving them a valuable spot for getting clicks.
When someone clicks on one of these ads, the website owner pays Google a little bit of money.
Like SEO, PPC has a few tactics that add up to a successful strategy.
PPC keyword research
In PPC advertising, you bid in an auction for the chance to get your ad shown on results pages. The success of your bid depends on the dollar amount you've offered as well as the trustworthiness of your website and its relevance to the keyword.
So PPC keyword research is about finding the keywords to bid on that you can afford and that you have a chance to win.
Bid strategy
Your bid sets the price you'll pay for each click you get from a paid search ad. The more you bid, the costlier each click but the better chance you have to win.
There's an art and science to bid management. That's why most search platforms offer some form of automated bidding option.
Quality score
Your Quality Score is a big factor in how Google decides your cost per click which affects how much you pay to convert a search engine user into a customer. On average, the higher your score, the less your ads, and subsequent conversions, will cost.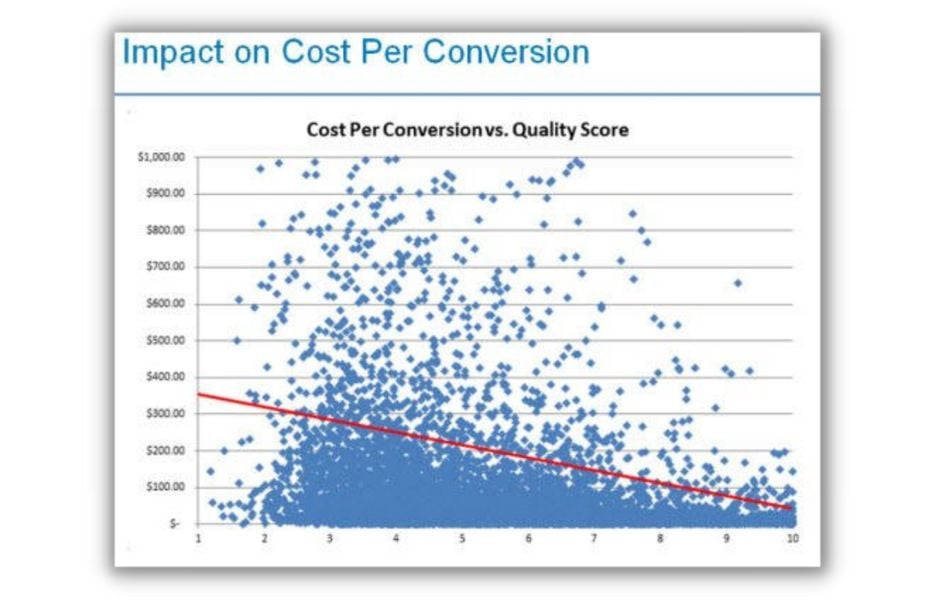 Your quality score is based on several factors, including:
Your click-through rate
The relevance of the keywords you've chosen
The quality and relevance of your landing pages
The relevance of your ad's text
Your historical performance with Google Ads
Ad content
Since your Quality Score and bid strategy are affected by the content of your ads, the copy and images you choose are an important part of PPC.
There are lots of ways to optimize PPC ads and improve your chances of winning bids and getting clicks. In short, you want to make sure your ads match the intent of your bid keyword and that they stand out on crowded search pages.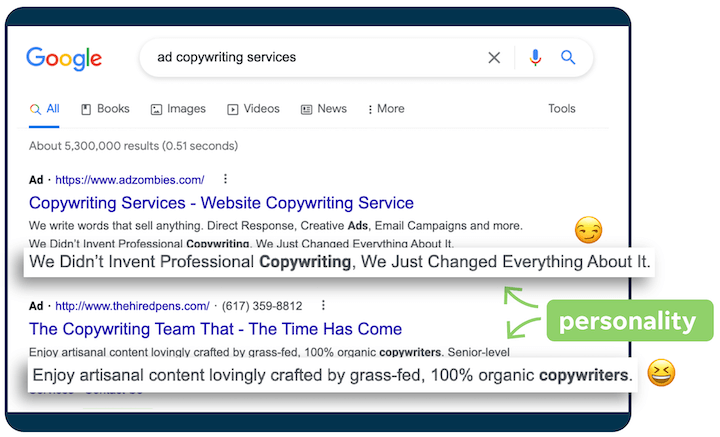 🤷 Why guess at the quality of your search ads? Use our 100% free Google Ads Grader to quickly learn how your Google Ads are performing and get steps to make them even better.
SEO vs. SEM: Cost
Whether you're focused on SEO or running all PPC, you'll incur some costs. They just come at different stages of the campaign.
SEO has high upfront costs that pay off over time
With SEO, the bulk of the cost is upfront. You need to spend a lot of time, and potentially money, to create content and set up your website to rank on search engines. A single, competitive blog post can be upwards of 3,000 words and take a day or days to research, write, and get backlinks for.
But once that page hits the search engine big time, it can deliver traffic for months (sometimes years) without touching it again.
PPC has steady costs for the life of a campaign
PPC, on the other hand, usually costs less upfront since you can run a campaign with a single ad that's only a few words long. But then you continue to pay the search platforms for the life of the campaign. As soon as you turn off the money tap to Google or Bing, you stop getting traffic immediately.
SEO vs. SEM: Speed
How fast you get results and how long those results last are big differentiators between SEO vs. PPC.
SEO is a long-term play
It can take months for you to see significant amounts of traffic from organic search results. And potentially longer to nab the very top spots on search engine results pages.
Authority Tracker's team conducted a study to prove this. They found that on average, informational posts that rank number one on Google are several years old.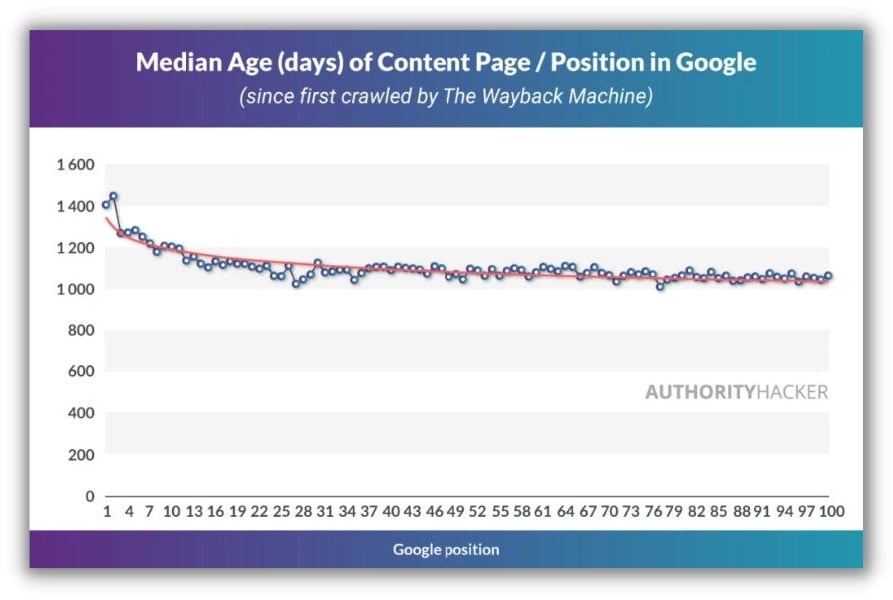 But remember, that also means a great post that ranks well can hold its position for a long time, too. You could get traffic from something long after you forgot you even created it.
SEM is immediate
In contrast, PPC ads are more like a lamp. You get results almost immediately after flipping the switch. It works both ways, though. Once you flip that switch off and stop paying for clicks, you won't get any more traffic from that ad.
SEO vs. SEM: How to choose for your business?
We've seen the benefits, negatives, and differences of both sides of SEM—organic SEO and PPC. As a business, which strategy should you invest in?
Advertising budget
Paying to advertise on search engines can be expensive. The average cost for a single click from a PPC ad can be over $9 depending on which industry you're in.
If you work in a competitive industry and don't have a large advertising budget, you might consider focusing on organic search for a while. Especially optimizing your Google Business Profile and getting listed on other business directories.
ROI
Related to budget is the ROI you need to get from your search engine marketing. The investment you make needs to leave room for a profit.
Let's say you sell a product that costs $20 and you make one sale for every 100 clicks from a PPC ad. If the average cost per click is $2, it'll cost you $200 to make a $20 sale.
A few relevant, organic keywords placed strategically throughout your website, and an SEO-focused blog, would be better investments.
Timing
It's not always possible to wait for the long-term benefits of SEO to kick in. That's where paid search really shines. Whether you're a new business, launching a new product, or just need to grow in your territory quickly, PPC ads will jump you to the top of search engine pages and deliver high-intent traffic right away.
That said, if you have the bandwidth to do both, you can publish some content and work on other on-page SEO steps while running PPC ads.
Targeted keywords
Different types of keywords lend themselves to different search marketing approaches.
SEO is a better strategy for informational keywords because the people searching for them show an intent to learn, not buy. Highly competitive keywords that suggest purchase intent, on the other hand, are perfect for PPC ads.
Here's an SEO vs. SEM example. Let's say you run a lawn care business. It would be great to rank highly for the term "when should I water my lawn" because people searching for that key phrase likely have lawns and are interested in making them look good.
But notice that there aren't many ads on the results pages for that keyword.
That's because those searchers aren't necessarily looking to hire a landscaper right now. So if you spend money to get those clicks through PPC ads, it'd be hard to make your money back. SEO is your best bet for these informational keywords.
Let's flip it and look at the results for "best lawn care Dallas TX."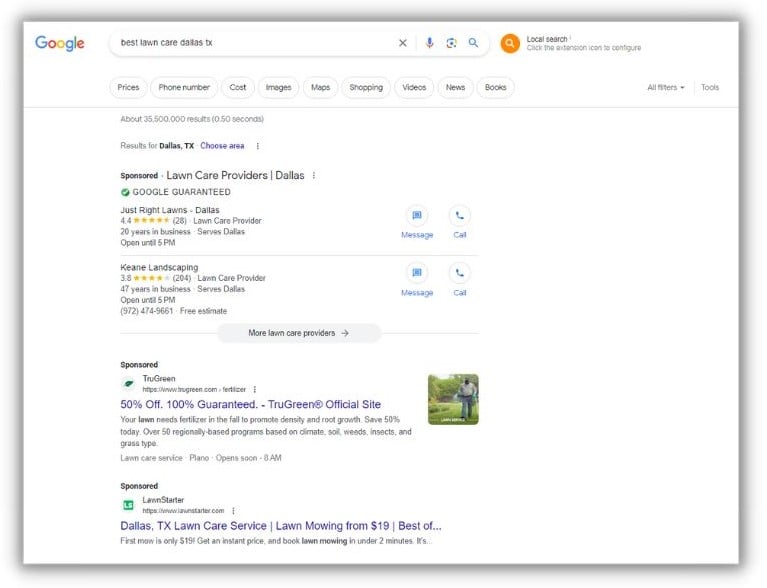 This keyword would probably get you lots of highly motivated prospects clicking to your sight. So you see more ads from companies looking to capture that purchase intent.
There are organic results on the page, too. But it's such a valuable keyword that it could take months or years for your pages to rank there organically. That's why these keywords are worth an investment in the paid side of SEM.
SEM and SEO in digital marketing
The fact that SEO delivers different results at a different pace than other SEM strategies doesn't put them at odds. Instead, it makes them the perfect one-two punch for fast growth.
When you combine SEO with PPC, you get multiple placements on search engine results pages and instant results that also compound over time. The best of all worlds!