Brand presence and coverage is an important aspect of any PPC strategy. Some businesses like to consistently bid on their brand names while others completely avoid it. There's no right or wrong answer, but brand advertising is a consideration every business undertakes at one point or another.
However, as the ad platforms change their offerings over time, you might end up wanting to rethink how you're approaching your brand strategy.
For example, one such change has been the updates to Google Ads match types over the last couple of years. With the removal of broad match modifier keywords, some brands have struggled to use broad match variants of branded terms to reach their audience without also targeting lots of irrelevant queries.
Recently, Google launched brand restrictions for search ads that should help them do just that. Let's walk through what these new brand settings are, how to use them, and then give some tips so you can get the most from them.
What are Google Ads brand restrictions?
Google Ads brand restrictions allow advertisers to utilize broad match keywords in their brand campaigns but limit the ads to show only on queries that are related to their specific brand. Prior to these new brand controls, advertisers would have no way of filtering their broad-match branded keywords' potentially matching search queries.
Up until recently, your branded keywords set on broad match would have shown to anything contextually similar to your brand name and its variations. Instead, with Google Ads restrictions for brands applied, advertisers can now have the peace of mind that their branded keywords will only match to people looking specifically for their business. 
Google does this by tying lists of brands to campaigns to ensure relevancy. This allows advertisers to extend their reach and attract more customers while also remaining relevant to their brand.
💡 In addition to brand lists, you can identify more ways to optimize your Google Ads campaigns using our free Google Ads Grader!
Brands vs. keywords
Google Ads restrictions via a brand list work through identifying brands, not keywords. In the screenshot below from Google's help article, they explain this in further detail. 
Brands contain information about organizations, trademarks, goods or services, and have clear, consistent branding. These are more inclusive than the simple keywords (or negative keywords) that we would use in regular campaigns.
How to create a Google Ads brand list
To create a brand restrictions list in Google Ads, head up to the main menu, then under Shared Library, click Brand Lists.
After you've clicked the blue plus button to start a new list, you can simply start typing in the brand names that you want included in your list. I've started with Coca-Cola because it's an easy brand that most people are aware of and has lots of brands associated with it.
Once you've been able to add all the brands you want to the list, just click save.
If you're not able to find the brand you want, you can request to have a brand added to Google's list. You simply need to click the "+ Request a brand" at the bottom of the brand list builder, then provide Google with more information about the brand.
This includes the brand name, category, URL, and any other related product names, then submit.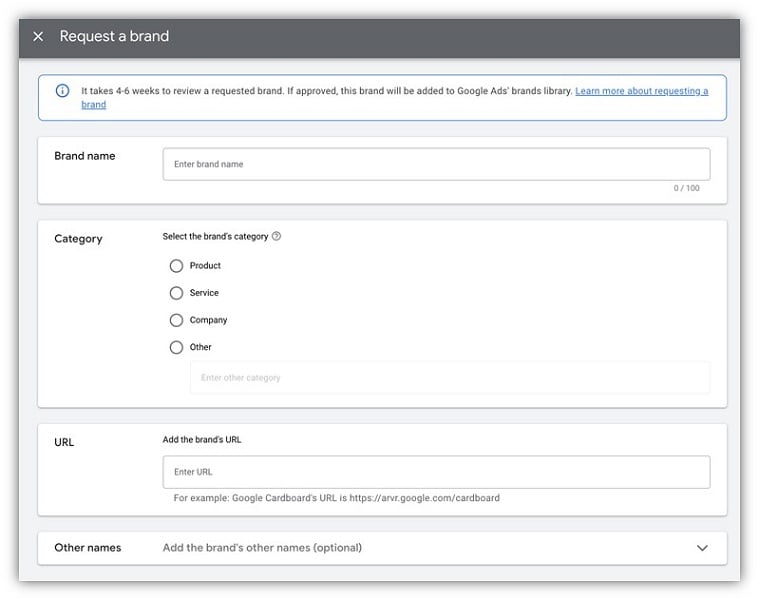 Depending on which interface you look at, Google says it takes a minimum of three weeks, or up to six weeks, to review a suggested brand. During that time, Google notes that your brand is usable in a brand list even if it's in pending status. Once it's approved, it will become part of the library for all advertisers to see. If it's not approved, it will be removed from your account. 

How to apply brand lists to search campaigns
Whether you're building a new campaign or updating an existing one, brand lists are applied in the campaign settings.
There's only one catch: to utilize brand lists, you must have broad match keywords turned on. If you don't, the brand list section of the settings will still show, but the option to add a list will be grayed out.
Once you enable broad match keywords, you will need to click on "More Settings" to show the brand list options. You can choose up to 10 lists for a Search campaign, then click save.
2 Google Ads brand list best practices
We've mostly talked about creating a brand list to apply to your brand campaigns to focus on your brand name itself. But based on the functionality of brand lists, there are a few other ways you can use them. Here are a couple of quick tips for how you can leverage this type of Google Ads restriction: 
1. Create separate lists for products and sub-brands
Many brands have their business name as part of their cohesive brand, but there are likely other trademarked terms and products that live within that brand as well.

In the example above, Coca-Cola has its core brands, but you'll also see slight variants for Coke Zero, Coke Vanilla, and bigger deviations like Sprite, Fanta, Dasani, and Minute Maid.
For these brands and sub-brands, I would suggest creating individual brand lists for each so you're able to easily keep them separate. Clearly, some of these brands are quite a bit different than others, so it's likely better to target someone interested in Minute Maid differently than Vanilla Coke, but your specific strategy will depend on your brands, sub-brands, and the differences (or similarities) between them.
When it comes to campaign structure, you could go one of two ways:
Create individual campaigns for each brand and apply only that brand's brand list to the campaign, or

Create a single "brand" campaign that houses all of your brand names, then apply multiple Brand Lists to that campaign to capture all relevant search traffic.
The only limitation will be the 10-list maximum on a single campaign. Otherwise, the structure option you choose is up to your personal preference.
2. Consider your competitor brands
You may have noticed that this brand library is open to everyone, not just the company that owns the brand name. What's to stop me from creating a brand list of all my competitors and focusing on their terms as well?
Honestly, nothing.
So while there is some debate (or at least personal preference) in whether or not you should be bidding on your competitors' terms in Search campaigns, there's no doubt that brand lists could be a great way to help you reach users searching for your competitors' brands on the Google network.
Use Google Ads restrictions with brand lists to your advantage
Brand lists are an exciting new tool for advertisers to leverage in their search campaigns. This shows Google is paying attention to concerns and struggles brands have had and are working to help them address those issues.
It's yet to be seen how perfectly effective these lists are, but it's a welcome change in the interface. If you want more ways to maximize your branded search campaign performance, see how our solutions can help!