4 Ways to Drive Leads from Your Holiday PPC Ads
Table of Contents
It's coming up on holiday time, and as someone who has worked mostly in PPC Ads lead gen accounts in my career, this time of year has always seemed a little anticlimactic. All of my ecommerce counterparts have been ramping up and stressing out about Black Friday, Cyber Monday, shipping dates, and more. While I did occasionally have a little bit of FOMO from all that excitement, I must admit, it's kinda nice not having to stress that much about sales numbers on any single day of the year.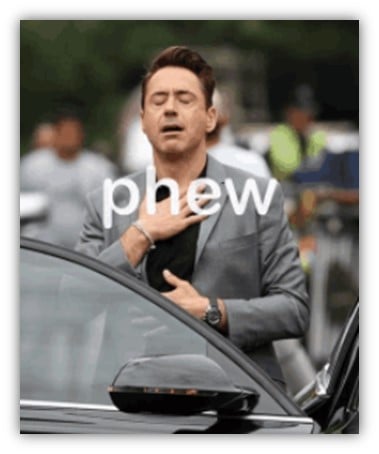 That feeling when the holidays are right around the corner, but you're not advertising for an ecommerce business. 
Now, just because lead generation campaigns don't have all those same hallmarks of the holiday season (see what I did there?) doesn't mean that there aren't strategies you can employ to make the most of your holiday season. In this post, I want to talk about some of the pros and cons of advertising during the holidays as a lead generation business, then review some best practices you can employ to get the most from your campaigns.
I should preface that this article is intended to cover lead generation businesses that are not associated with gift-giving. So if your business generates leads for something that lends very well to gift-giving, check out this post on holiday marketing trends instead to source inspiration for your gift-oriented offerings.
Why lead gen businesses should do holiday PPC advertising
If you're trying to decide whether holiday PPC advertising is worth it for your lead-driven business, here are some of the benefits to be aware of:
Lower competition
If you naturally thought that you should slow down or pause your campaigns during the holiday season, odds are your competitors are thinking the exact same thing.
There's probably something to pay attention to if your "spidey senses" tell you it's a bad idea to advertise during this time, but there's also something to be said for being the only voice in the room. It's almost never a bad idea to fill a gap your competitor leaves behind, so if they are thinking or planning on pausing, you might be able to take advantage of the lower competition and win some incremental business during the most wonderful season of the year.
👀 See how your competitors approach advertising year-round with our latest search ad industry benchmark report!
People are usually active during the holidays
For better or worse, time with family around the holidays also usually leads to more scrolling time on your phone. There's only so much you can hear about your extended family's road trip through the Southwest or your niece and nephew's karate progress until you need a little decompression break.
During this time, you have a great opportunity to make a strong brand impression on users who can often be hard to get in front of otherwise. But if you're not advertising, then you won't get in front of your target market, and you might lose a chance to influence a decision-maker while they're purposefully looking for an escape and competition is low.   
In fact, the majority of consumers planned to browse online last year at a rate higher than in previous years:
"Use it or lose it" budgets
As we near the end of the calendar year, many companies are also hitting the end of their fiscal year, and they need to balance the books. While I might not agree with it, I've been in quite a few partnerships with companies where we needed to scale up quite a bit to use the budget before the end of the year to ensure they would get the same budget again next year.
If you're advertising your own business or a business that you work for, you might find yourself in this same position, so ramping up your holiday advertising can help alleviate any issues with leftover budget. 
Alternatively, if you're a PPC agency with clients that have a similar accounting philosophy, helping them get that budget spent before the year closes can help both of you end the year on a good note. 
💡 Are you an agency looking to make a positive impact on your client accounts this holiday season? See how your offerings compare to other agencies for free with our new 2023 State of the Digital Marketing Agency industry report.
Machine learning isn't good at large shifts
A best practice for scaling budgets on Facebook is to increase or decrease the daily budget by 20%, let that change marinate for a day or two, then make another 20% change.
This strategy is important because Facebook, like most major ad platforms, leans quite a bit into machine learning and large changes cause those algorithms to get out of whack. The same is true if you were to pause campaigns or cut budgets way back during the holidays. This should deter you from making large changes to your account this season. If you do need to scale down, you should do it incrementally and make sure not to make any sudden moves. 
Why you may not want to advertise your lead gen business during the holidays
If you're unsure about your holiday PPC advertising, here are some of the drawbacks to be wary of.
Mindset shifts and business slowdowns
The holidays are intended to be a time to slow down, spend some quality time with family and friends, and take time away from the hustle and bustle of work life. Many people lean very, very hard into this. 
Even if they are on their social apps, they might be so completely checked out that they don't pay any attention to your ads. They might avoid work and work topics at all costs, so you may find your ads to be less effective than they would be during a normal time of the year.
But what makes up a business? Individuals. Depending on the culture of the business itself and the mindset of the individuals within that business, particularly your customer personas, you may find this to be a better time to slow down and prep for the new year.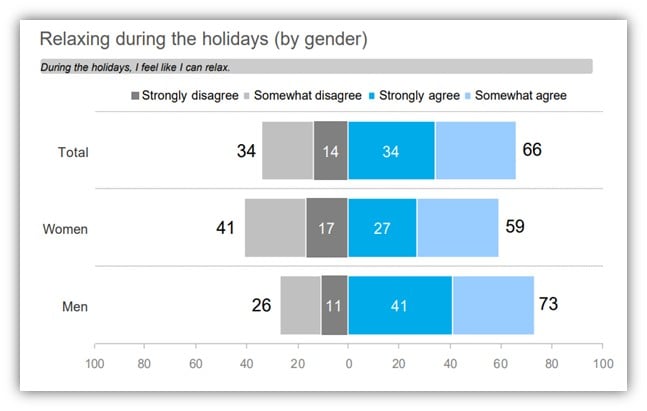 This study proves that the majority of people consider the holidays a time to relax. 
Ecommerce holiday budgets can cause cost increases
For those advertising on social or display platforms (i.e., not search where you're answering the demand), the holidays can be a time of high cost due to ecommerce brands trying to make their year in the last 2.5 months of the calendar.
Since these platforms are a form of push advertising and there's only so much inventory, costs get higher for each impression as budgets increase and more companies enter the market. Depending on how much your target audiences overlap with theirs (which is impossible to know), you could find yourself paying 2-3x higher CPMs (or even more) than you would during Q1-Q3.

Disposable income is likely spoken for
If you're a B2C lead gen company, you might be fighting for budget dollars that aren't there during the holidays. Depending on what you're selling (again, if your product or service is often considered a gift, you likely want to stay in the game), your potential customers may see your ads, be interested, but then ultimately decide it's more important to spend that money on gifts under the tree than it is to make a non-gift purchase.
4 ways to maximize lead gen campaigns during the holidays
Hopefully you've now decided whether or not you want to advertise during the holidays. For those of you who are going to skip it and take the time off, feel free to exit through the gift shop at this time!
For those of you who are sticking around and planning to take advantage of the holidays for your lead gen campaigns, I want to leave you with some tips that I've seen help my clients get the most from the season, given that it is, for better or worse, a much different time of year.
📈 Find more ways to improve your advertising strategy during the holidays using our free Google Ads Grader!
1. Adjust your messaging based on holiday timing expectations
Nearly all PPC for lead generation requires some form of follow-up to figure out the next steps. Maybe your call to action is to request a callback or a custom quote. Each of those things takes time.
In the US, Thanksgiving falls on a Thursday. If your typical messaging says "Custom Quote in 24 Hours or Less" and someone fills out the form on Wednesday at 5 p.m., are you really going to get them that quote before 5 p.m. on Thursday?
Think about the expectations you set for your potential customer. Make sure your calendar link has any holidays (or days you'll be out of the office) blocked off and ensure everyone is on the same page. 
2. Lean into the holiday spirit
It might be a little kitschy, but how can you frame your business's services or products in a holiday light? Are there new pieces of content you can share that are holiday-themed but still get the message to your customers?
What about promotions? Can you discount something a small amount since it is the holidays and people are looking for deals? Can you throw in something extra? How can you be more enticing during the holiday season?
Here is an example of a lead-driven business doing just that: 
3. Look to soften calls to action
As mentioned earlier, some businesses are using the slower time in the holiday to start researching an effort they'll be working on more seriously in the coming months. Rather than asking for a hard sell, give them content that's useful to where they are now in the research process. Provide information and educate rather than sell.
For example, this business created a downloadable holiday safety tip guide to continue driving leads throughout the season:
4. Push the time frame out
This strategy is a bit of an extrapolation from the tip above and works particularly well if you have a longer holiday sales cycle. If you don't have softer calls to action to use, can you push out the timeframe for the follow-ups?
Maybe you set your Calendly link to only have openings starting in January. Maybe your ad copy says to get in touch now to reserve your spot in the new year. Since many people are dealing with the hustle and bustle of the end of the calendar year at work and the holidays at home, you might be a breath of fresh holiday air to be the only source not pushing them to get something done right away. 
The choice to advertise during the holiday season as a lead generation company is entirely individual and depends heavily on your business, your service/products, as well as your customers' mindset and needs during the later stages of the calendar year. Hopefully, this overview has given you a better idea about the pros and cons of advertising over the holidays, a better set of expectations, and some ideas for how to make the most of the season if you do decide to keep the twinkling lights on.
To recap, here are my top four holiday advertising tips for businesses looking to generate leads this season:
Adjust your messaging based on holiday timing expectations
Lean into the holiday spirit
Soften calls to action
Push out your time frame
Follow More Articles Thyposts 
Just Visit New Article 8 ways to Drive Facebook Ads