Way back in August of 2007, while you were singing along to "Umbrella" (ella…ella) on the radio, a product designer named Chris Messina proposed to Twitter the idea of "using #(pound) for groups."
Twitter's response? It was too nerdy and would never catch on.
Welp, 15 years later and hashtags are staples in social media platforms, especially on Twitt..erm…X, TikTok, and what we'll be talking about today: Instagram.
Read on to learn how to harness the power of Instagram hashtags to grow your following, engage your audience, and build your brand.
Table of contents
IG hashtags 101
Best hashtag ideas
More hashtag ideas
Instagram hashtag best practices
What is a hashtag?
A hashtag is a word, phrase, or acronym with the pound symbol (#) in front of it. On social media platforms like Instagram, if you tap or click on a hashtag, you'll be shown all of the posts on that platform containing that hashtag.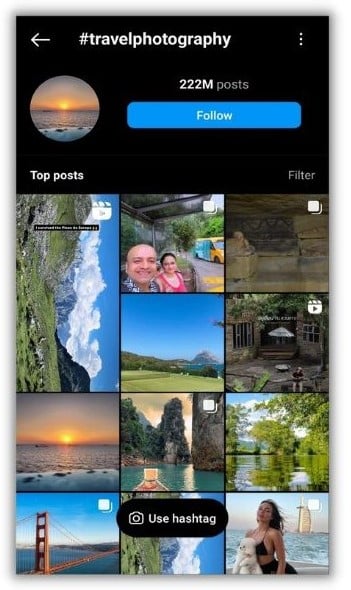 This makes it easy for users to categorize their content and to find specific content in the vast sea of social posts.
Hashtags can be found on the most popular social media platforms, including:
Instagram
Facebook
LinkedIn
TikTok
Twitter
Why use Instagram hashtags?
While other social media platforms support hashtags, Instagram is one of the ones where hashtagging is the most important. Here are some of the many benefits of using Instagram hashtags.
Expand your reach. Hashtags make your Instagram posts, Reels, and Stories discoverable by users in their regular Instagram meanderings, giving you multiple avenues for exposure to a larger audience.
Increase engagement. Instagram posts that use hashtags gain a 12.6% increase in engagement compared to those without. Another source says 29%.
Build your following. Because hashtags help you to get discovered by niche audiences, they help you to get more Instagram followers—quality followers that have the potential to become customers.
Strengthen your brand: Between branded hashtags that encourage user-generated content and just flat-out funny hashtags that serve only aesthetic purposes, hashtags play a role in expressing your brand voice and even building trust.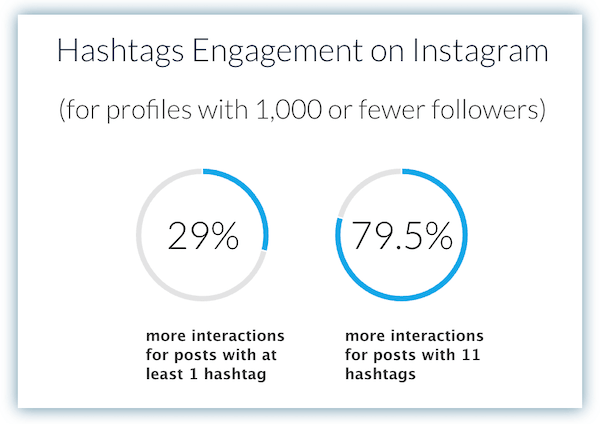 Types of Instagram hashtags
There is an endless list of hashtag options to use on Instagram. But you can group most into these categories.
Location hashtags
These are essential for local social media marketing and can help you attract nearby customers. Note that adding a location hashtag is not the same as adding a location on Instagram!
#detroitrealestate
#landscaperboston
Popular hashtags
These are often super-broad, so they aren't likely to bring in the most relevant engagement, but they can help you get exposure, nonetheless.
#waybackwednesday
#dogsofinstagram
Trending hashtags
These hashtags emerge from current events, both one-time occurrences and events that repeat regularly.
#marchmadness2024
#solareclipse
Branded hashtags
Businesses often create hashtags unique to their name or a specific campaign to encourage engagement and user-generated content.
#goldiesquad (@goldieblox)
#myDSW (@dsw)
Daily hashtags
There are many popular hashtags used on Instagram built around every day of the week.
#thurstythursday
#sundayscaries
Holiday hashtags
Holidays and hashtags are the perfect pairing for Instagram marketing.
#instahanukkah
#seasonsgreetings
Community hashtags
Community hashtags put the network in social network by letting people find others with the same interests.
#runners
#photographersofinstagram
How to add hashtags on Instagram
Adding a hashtag on Instagram is literally as easy as putting the pound symbol in front of a word or phrase!
You'll commonly see hashtags placed in Instagram captions like this:
But they can also be used in other places like your Instagram bio. There are even a few sneaky ways to hide hashtags in your Instagram posts, which we'll show you in a bit.
Here are a few other things to consider when placing Instagram hashtags:
No punctuation. Do not include punctuation or spaces in your hashtag. For example, #don't-hate or #do-not-hate will not work. #donthate will.
Make it clear. It can help to capitalize the first letter of each word in hashtagged phrases for easier comprehension and accessibility (for example, #findyourpassion vs #FindYourPassion). Note that capitalization does not change where the hashtag links to.
Look for unexpected words. Sometimes, combining words without spaces makes new words you didn't intend.
Don't repeat hashtags. Using the same hashtag twice in a post doesn't increase your chances of getting discovered or showing up higher in searches.
Top Instagram hashtags
Popular hashtags aren't going to help you stand out, but if you mix them with more niche tags you'll get some extra exposure. Plus, they're a good "seed" hashtag that you can modify for relevancy.
According to top-hashtags.com, these are the 20 most popular hashtags (along with how much each has been used):
#love (2.1B)
#Instagood (1.7B)
#Instagram (1.1B)
#fashion (1.1B)
Photooftheday (1.0B)
#art (1.0B)
#photography (1.0B)
#beautiful (829M)
#nature (791M)
#picoftheday (723M)
#travel (708M)
#happy (702M)
#follow (699M)
#cute (668M)
#style (646M)
#instadaily (645M)
#tbt (584M)
#repost (559M)
#summer (555M)
#beauty (532M)
Daily Instagram hashtags
We actually have an entire post on hashtags for every day of the week, but here's a super-distilled version to get you started:
Monday: #mindfulmonday, #mondaymood, #mondayquotes
Tuesday: #tooltiptuesday, #traveltuesday, #tuesdaytrivia
Wednesday: #waybackwednesday, #wellnesswednesday, #woodworkingwednesday
Thursday: #throwbackthursday, #thankfulthursday, #thursdaythought
Friday: #fearlessfriday, #flashbackfriday, #featurefriday
Saturday: #saturdaysweat, #saturdayselfie, #saturdaysale
Sunday: #sundayfunday, #spotlightsunday, #sundaysweets
#thursdaythoughts
Instagram hashtags for growth
The best Instagram hashtags to use for growth are those that are specific to your niche. You can then modify them to include your location or even business name. We have you covered with over 300 more industry-specific hashtags to use in your posts, but here's a taste:
Real estate: #newlisting, #openhouse, #mortgagetips, #townhouse
Education: #highered, #virtuallearning, #alumni, #go[schoolname]
Automotive: #carsforsale, #cardealership, #collisionrepair, #tirerotation
Healthcare: #getyourcheckup, #telehealth, #cancerawareness, #hearthealth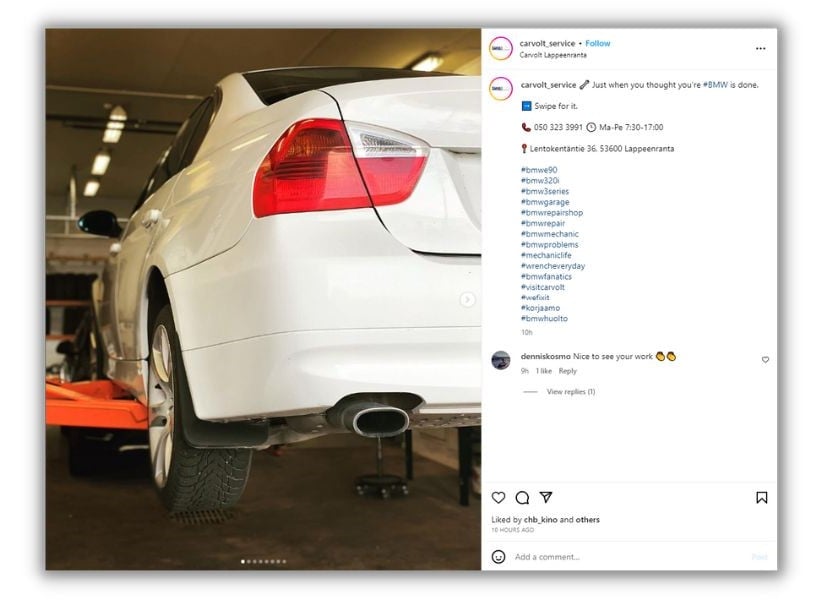 #carmechaniclife
Small business Instagram hashtags
Instagram marketing is a big deal for small business marketing. These hashtags will help mom-and-pop shops get found on the 'gram.
#shoplocal, #buylocal, #supportsmallbiz, #familyowned, #smallbusinesssaturday, #smallbusinessweek, #smallbusinesslove, #smallbusinesstips, #smallbusinessowner, #handmade, #handcrafted, #etsyshop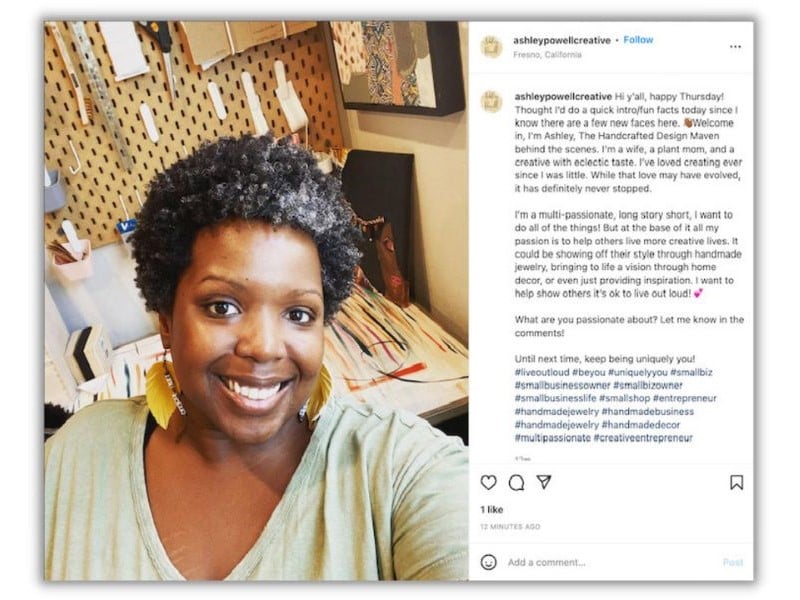 #smallbiz
Motivating hashtags
We could all use a little lift every now and again. Use these motivational hashtags in Instagram to let your followers feel seen.
#hustle, #motivationonoftheday, #ifnotyouwho, #justdoit, #alwaysbekind, #workhard, #bebolder, #nevergiveup, #walkyourtruepath, #starttoday, #carpediem, #ifnotnowwhen, #accountability, #bethechange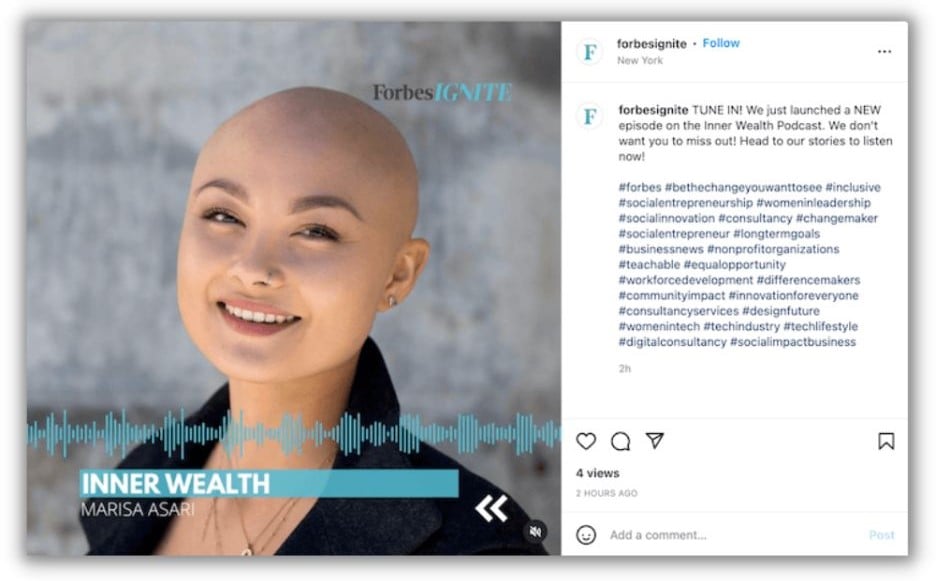 #bethechangeyouwanttosee
Hashtags for Instagram Reels
Instagram Reels are mini-movies similar to TikTok's short-form content. Include a Reels-specific hashtag to get your videos discovered in Instagram when people are searching for that kind of content.
#reels, #funnyreels, #reelsvideo, #reelsinstagram, #reelsviral, #reelsexplore, #trendingreels, #reelstrending, #reelsdance, #instagramreels, #instareels, #reelsofinstagram, #reelsdaily, #reelschallenge, #reelsfashion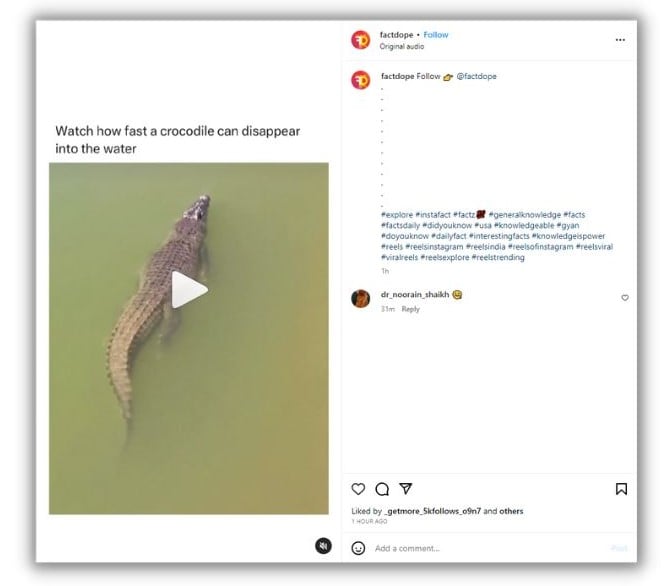 #viralreels
Holiday hashtags for Instagram
You can come up with a hashtag for every conceivable holiday (#NationalCreamsicleDay FTW!). In fact, we've gathered over 140 end-of-year holiday hashtags for you to copy and paste. Here are a few holiday hashtags from all over the calendar.
#christmasspirit, #naughtylist, #NYE, #lightthemenorah, #halloweenvibes, #Tdayfeast, #memorialdayweekend, #thankyouvets, #thefourth, #happyfourthofjuly, #shamrock, #stpattysday, #Valintinesdaylove, #bemine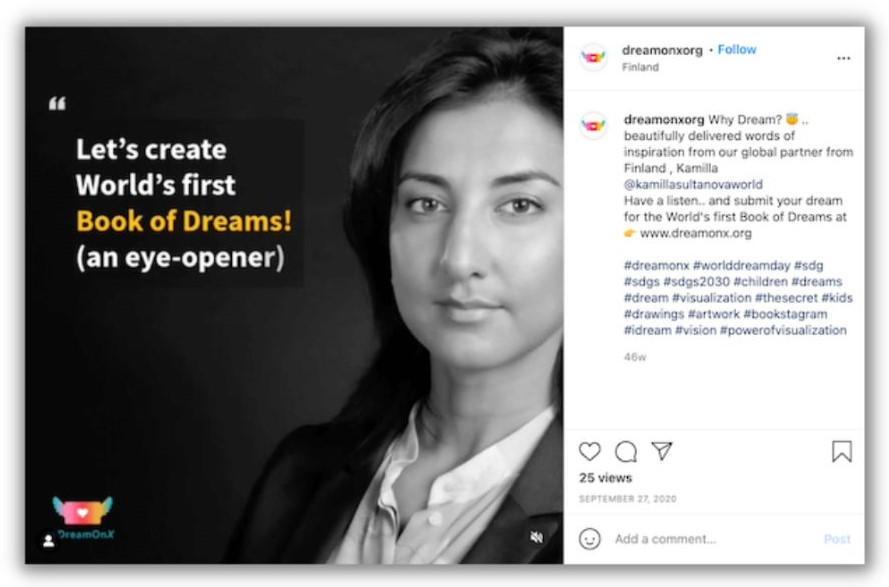 #worlddreamday
These posts have a host of holiday hashtags for your review:
Instagram hashtags for likes
When someone taps the little heart, they're not only telling you they liked your post. They're sending a signal to the Instagram algorithm that more people should see it. These hashtags are searched by people looking for likes (and followers), so they'll be willing to trade #like4like.
#likes, #likeforlike, #instacool, #like4follow, #follow4followback, #instalove, #shoutout, #follow, #f4f, #followback, #liker, #instafollow, #pleasefollow, #likeforlikeback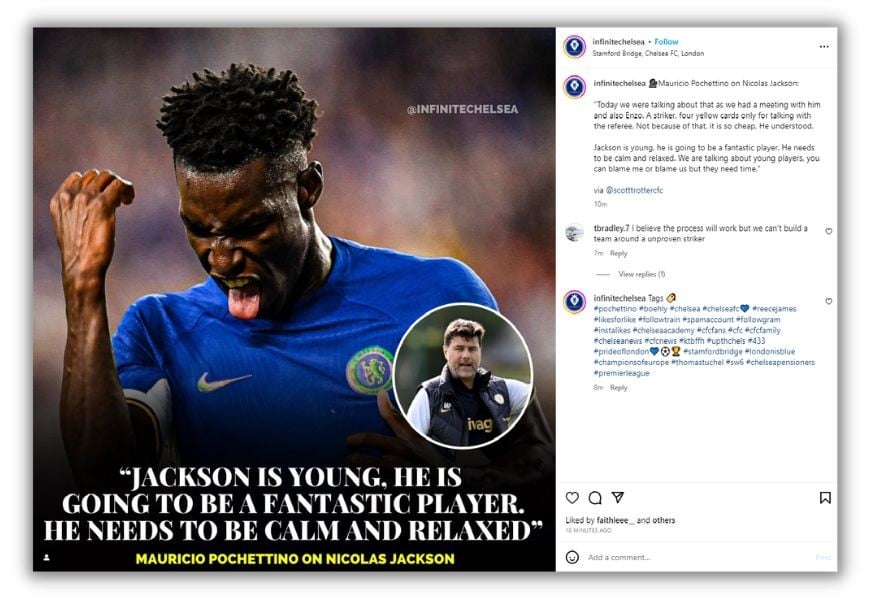 #followtrain
Mental health hashtags
Mental health awareness has become a big topic in every sphere, so it's no surprise to see more mental health hashtags popping up on Instagram.
#stigmafree, #mentalhealthadvocate, #mentalhealthawareness, #anxietyisreal, #endthestigma, #selfcare, #acceptyourself, #gowithin, #mindsetshift, #selfacceptance, #youareworthy, #healthyboundaries, #itsokaytonotbeokay
#itsokaytonotbeokay
Diversity and inclusion hashtags
Hashtags in this category have bloomed in the wake of several recent events. Here are some of the more popular diversity and inclusion hashtags.
#empowerment, #inclusion, #socialimpact, #community, #loveislove, #accessible, #disabilityawareness, #diversityequityinclusion, #pride, #blacklivesmatter, #allmeansall, #bettertogether, #unityindiversity, #loveforall, #minorityowned, #veteranowned, #womanowned, #blackowned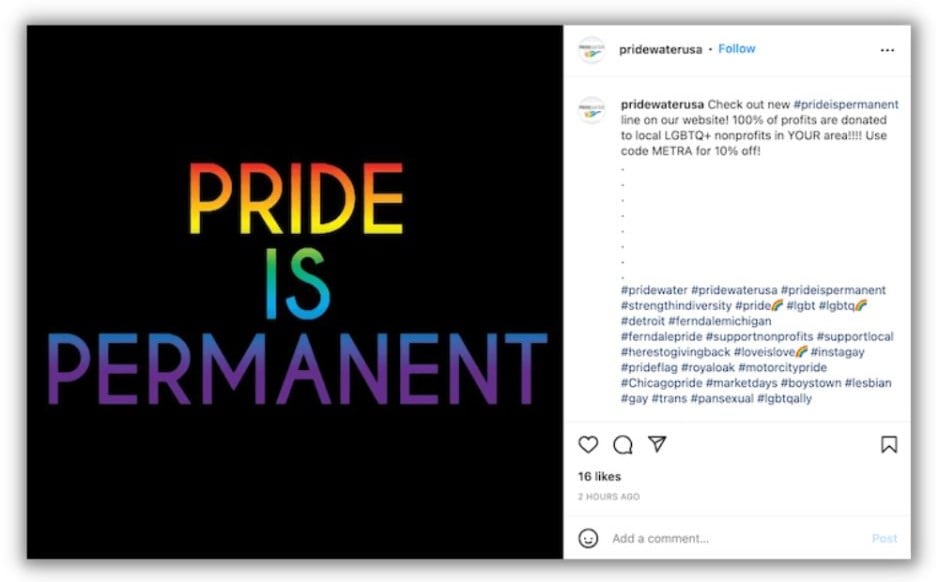 #prideispermanent
How to find trending hashtags on Instagram
To use hashtags in your Instagram content in a meaningful and effective way, you need to do your research. So where to start? Here are a few ideas…
Use a hashtag generator
Hashtag generators are handy tools to help you create both broad and specific hashtags. Most work by taking a word you enter and delivering a list of related hashtags. Many also show you the popularity of each tag.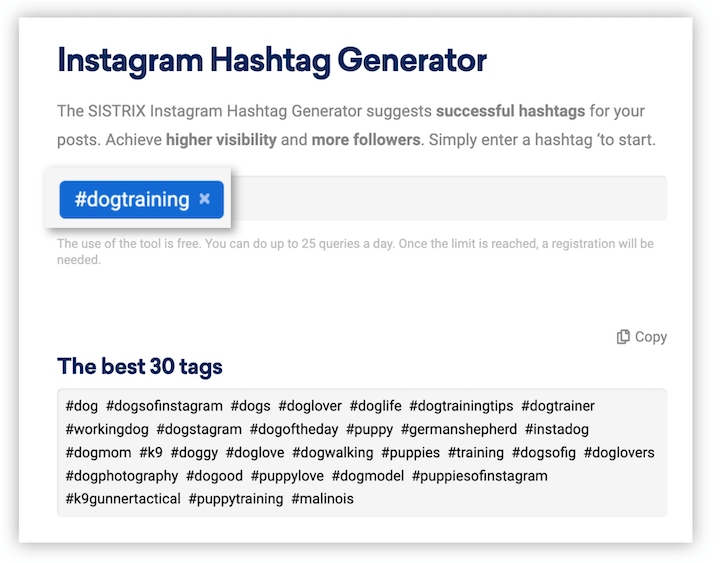 Here is a list of several popular hashtag generators:
🤖Hashtag generators aren't the only use for AI. Download this guide to
AI in marketing
and learn several reasons why artificial intelligence could be a real smart move for your business.
Instagram search
Type hashtag ideas into the Instagram search bar and see what auto-fills. Easy peasy.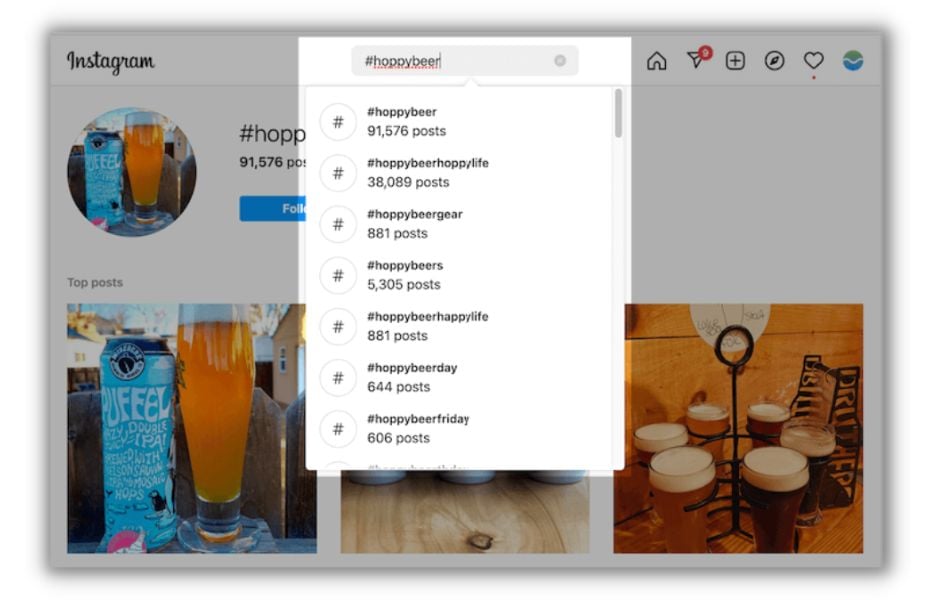 Check your competitors
Keep an eye on your competitors and industry influencers. If you're not sure what tags would be worth using, just take a look at what others are using successfully in your industry. That will give you a good starting point from which to mold your own strategy.
How to hide hashtags on Instagram
If your post is, indeed, worthy of 20-30 hashtags, there are a few ways to hide them so they don't clutter up your caption.
Put them in a comment. Include just a few in your Instagram caption and then put the rest in a comment on your post.
Push them down. Write your caption, then create new lines with just a period on each line. Once there's enough white space after your caption, paste in your hashtags.
Cover them. In Instagram Stories, you can make your hashtag text color the same as your background, or cover it with a sticker.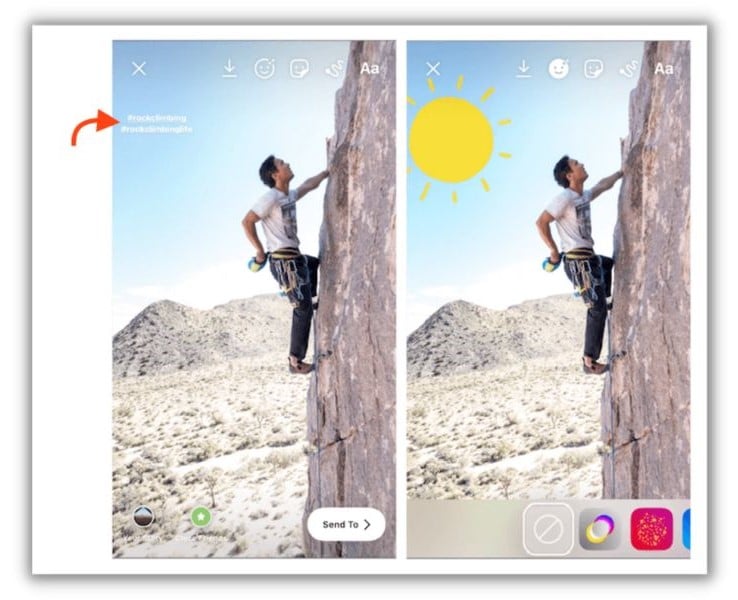 How many hashtags to use on Instagram?
Instagram allows you to use up to 30 hashtags, but the number you should use depends on who's making the suggestion.
A report from waaayyy back in 2017 found that an even 10 hashtags were the perfect amount for the most reach.
In 2021, Instagram publicly announced (on Instagram, of course) that you should only use between 3-5 hashtags per post.
That same year, Later revealed that 20-30 hashtags is actually the way to go (for Feed posts).
Here's what they recommend:
Use 20 hashtags for optimal reach rate
Use 30 hashtags for optimal engagement rate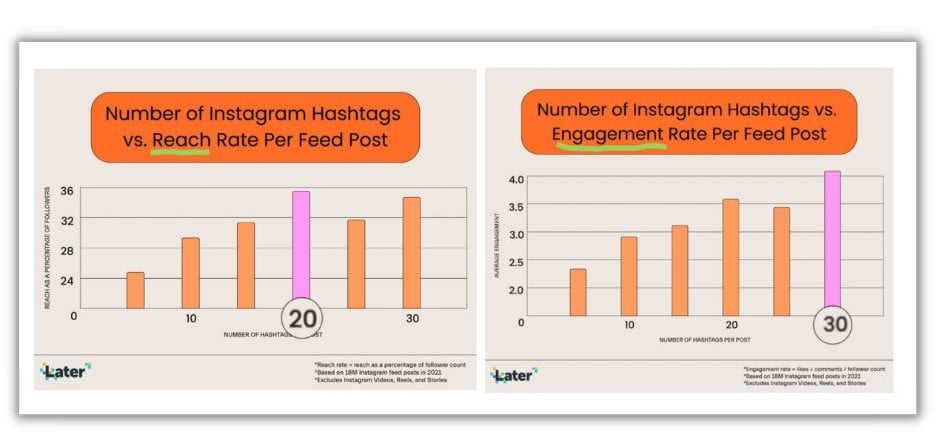 What's all this mean for you? Don't use more than three or so hashtags in your caption, hide a couple in the image if you like, and add the rest—up to 30 total—in a caption. Just make sure they're relevant to your content.
How to use hashtags in Instagram
Hashtags are a powerful tool to promote your Instagram account for free. Here are some ways to use hashtags on Instagram.
Use a mix of hashtag types
Hashtags are the keywords of Instagram SEO. You'll want to use a mix of high-volume hashtags to help you gain broad exposure, as well as lower-volume but higher-intent hashtags to attract potential followers and customers.
For example:
Broad, low intent: #landscaping, #backyard
Less broad, medium intent: #landscapinghouston, #residentiallandscape
Specific, high intent: #landscapingserviceshouston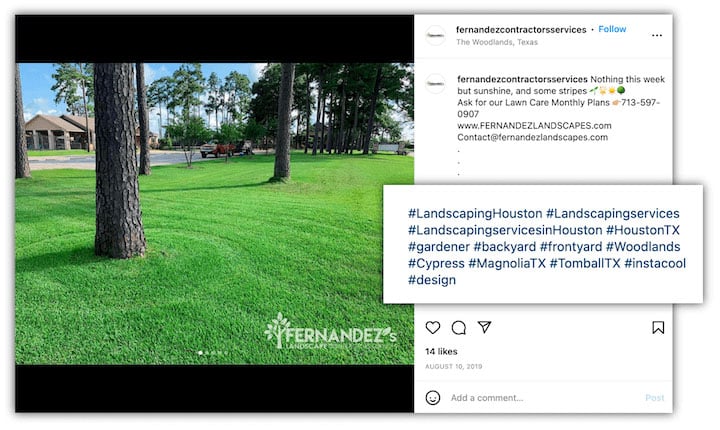 Save a default list
While you shouldn't repeat hashtags in the same post, you can (and should) repeat hashtags that work in different posts. Keep a note handy so you can easily copy and paste them into your posts.
But remember. Relevancy is critical. Remove hashtags from your list where it doesn't apply. If someone is exploring a hashtag and your super irrelevant post pops up, it'll make your brand look unreputable, untrustworthy, and/or desperate.
Create your own hashtag campaigns
Some of the best Instagram marketing campaigns are hashtag-based. Take the unforgettable #IceBucketChallenge. The marketing team for the ALS Association was able to raise awareness with this hashtag campaign, but they also raised a substantial amount of money ($115 million to be exact!).
Think about how you can do something similar by getting your followers to WANT to use your hashtag, which will help spread brand awareness about your business to other Instagrammers.
Hashtags campaigns don't always have to be short-lived contests or trends. In fact, some of the most successful branded hashtags are the timeless ones, like Chewy's #petsbringustogether.
Create an evergreen branded hashtag for user-generated content
Take the hashtag created by the sneaker company, Allbirds. Rather than using generic hashtags on every post, they use #weareallbirds, and happy customers use it as well to share their new kicks!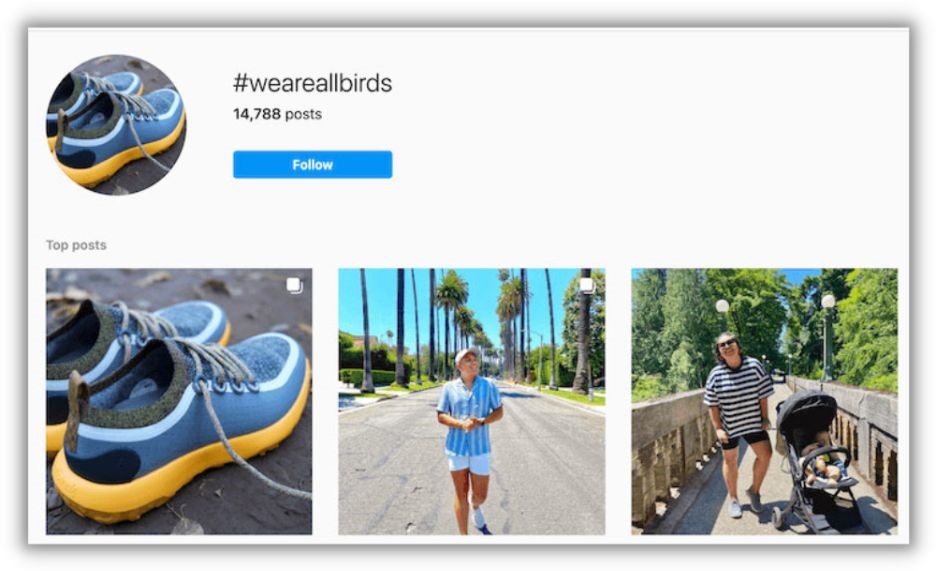 Tips for creating a branded hashtag on Instagram:
Make it unique: Be specific and include your brand name.
Keep it snappy: If a hashtag is too long and complicated, like #wordstreammakesadvertisingeasy, your followers won't remember or use it.
Check it: Always search the hashtag to make sure it's not already being used, or worse, used for something inappropriate or insensitive.
Use hashtags for giveaways
Run an Instagram giveaway asking entrants to take a picture, tag your business, and use a specific hashtag. Not only does it make it easier for you to track entries, but it can help you populate your branded hashtag with awesome content.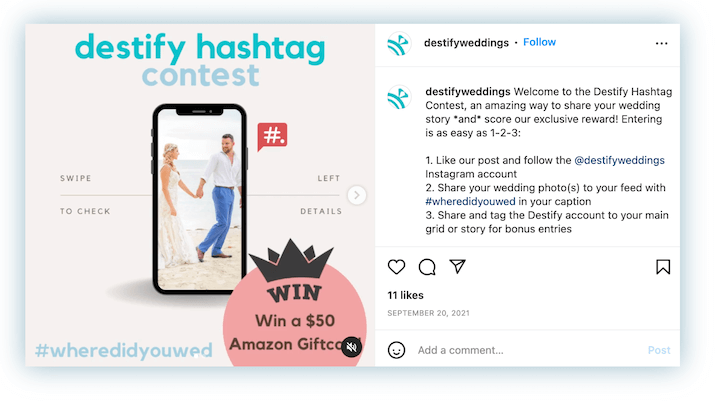 Create a hashtag challenge
Hashtag challenges connect your followers and build a community around your brand.
Here is a great example from Lululemon UK and Stava, which partnered to run a fun challenge encouraging followers to complete a 40-80K run and tag their Instagram posts #4080challenge.
But as I've said before, always check the hashtag. If you search #4080challenge on Instagram, you get more car results than runners.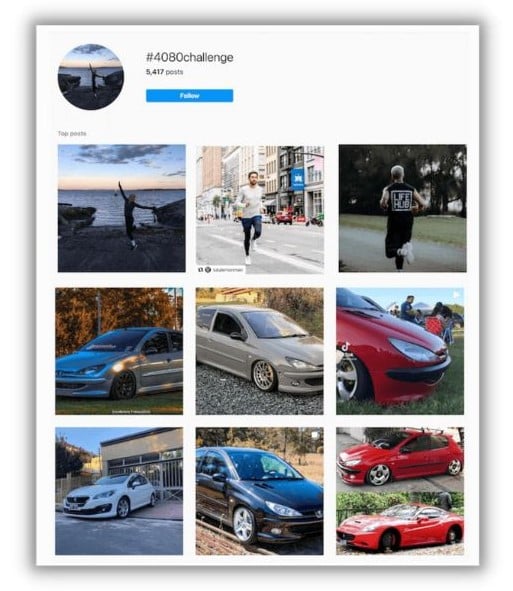 #4080challenge…a Lululemon campaign and a car.
Tag other brands
In addition to tagging other brands in your Instagram posts, use their branded hashtags too. It's a good way to support other businesses in their Instagram marketing strategies, and you never know—they just might feature you or use your hashtag to return the favor.
Follow hashtags
There are a few hashtags you should follow on Instagram.
Your own branded hashtags: To stay on top of engagement and monitor your reputation. Users may not always tag your business in the same post where they use your hashtag.
Your competitors' hashtags: To keep tabs on them.
Industry hashtags: To stay on top of news and trends in your niche.
To follow a hashtag, simply search for that hashtag and select the "follow" button in search results.
Instagram hashtag analytics
It's time to talk about reporting. You can't know if your hashtags are improving your social media marketing without the numbers. Luckily, you have lots of tools at your disposal. Here are exactly three.
1. Instagram Insights
First up is Instagram's analytics. You can access this on mobile if you have an Instagram business account. You can also view an individual post's hashtag performance by tapping "View insights" under that post.
2. Sprout Social
If you are looking to get a bit more detail on individual hashtag performance, it might be worth investing in another reporting tool that digs into the details, like Sprout Social. This robust social reporting tool will allow you to generate Instagram hashtag performance reports to do a variety of things, including:
Compare your most used Instagram hashtags to the ones that get the most engagement.
See how branded hashtags perform relative to broader hashtags.
Use their tagging feature to build campaign-specific hashtag reports.
3. Iconosquare
While the pricing is a bit higher for
Iconosquare
, there is a ton you can do, from scheduling social posts, tracking and responding to comments, and accessing detailed analytics all from one place.
When it comes to hashtag tracking, this tool provides quite sophisticated analytical data in regard to hashtag engagement and whether or not certain hashtags are contributing to brand and/or campaign growth.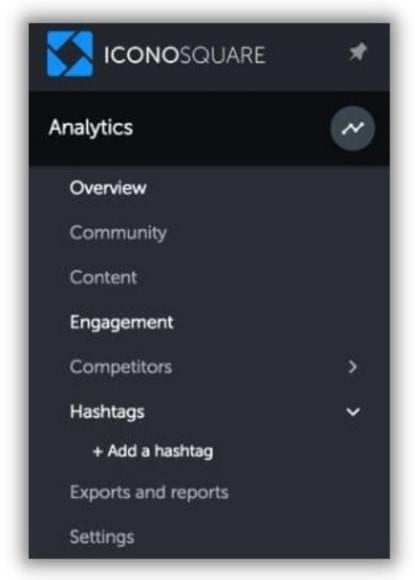 Instagram hashtags FAQs
We've covered a lot of ground, but let's highlight a few questions that often come up about Instagram hashtags.
What are the best hashtags for Instagram?
The best hashtags are the ones that your target audience will search. That means they should be relevant to your message and what you do. They should also have some usage volume so you know they're actually searched for.
How do hashtags go viral on Instagram?
Some hashtags gain a lot of attention right out of the gate. The #icebucketchallenge is a good example. It may be that a high-profile celebrity shared the tag or that it corresponds with an event everyone wants to know about. For the most part, virality is too nebulous to make a goal. Instead, focus on posting great content to Instagram and matching hashtags to it.
How many hashtags should I use on Instagram?
You can use up to 30 hashtags per post. Keep five or fewer in the caption. Place the rest in the first comment.
What are the best hashtags for Instagram Reels?
In many ways, hashtags for Reels work just like they do for your in-feed posts. Pick hashtags that match your content and have volume. You can also include some variation of #Reels so people looking for short-form videos to watch find yours.
Start using hashtags on Instagram
Who knew that one symbol could hold the power to expand your reach, attract more followers, and grow your business?
Now that we know just how important Instagram hashtags are, let's keep in mind these tips for using them:
Use hashtag generators and the Instagram search bar to find hashtags
Hide extra hashtags in the comments
Use up to 30 hashtags but keep them relevant
Include a mix of hashtag types for reach and engagement
Check it's meaning and make sure you didn't create an unexpected word
Keep a library of often-used hashtags
Create your own hashtag campaigns and challenges
Use hashtags to gather UGC
Fuel giveaways with hashtags
Tag other brands for a reach and awareness power-up